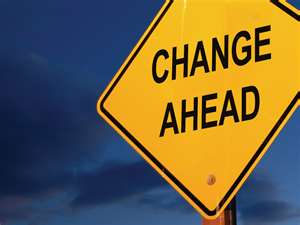 I have always heard that the two things you can count on in life are death and taxes.  I want to add a third to that list – Change!  I seem to be having a lot of friends and family members experiencing a lot of change lately and not all due to the economy – new jobs, divorce, illness, and kids leaving home.  Even tonight I met a woman who lost her only child at 46 years old to a stroke this past April.
The interesting thing about all these people experiencing the change is that they are getting through it.  I find that the people that are trying to support them are the ones who are having a tough time with it.  Even this woman tonight told me that her sister is still grieving tremendously while she has recognized that she is still living and needs to put her grief to the side as best as she can and live.  It is not that she has forgotten her son but that her son would want her to live a full life while she is still on earth.
So why is it so hard to accept change?  We are creatures of habit and when there is a change we feel we have lost some level of control.  This economy has certainly shaken up our belief system – we believed that if we worked hard we can have a house that will appreciate, our investments will increase, our kids will have a better life than we did, and we can retire and have fun.  Unfortunately a lot of those ideas are now not feasible for most.
So what can we do?  Focus is key.  Start with identifying what are your core values.  Spend the time to identify five of them.  Make a life plan that is based off those values and re-evaluate every few days that you are living those values.  From there, add your other plans – financial, career, fun, family, health, etc.  We tend to spend a lot more time planning our vacations than planning our lives.
Control only what you can.  Worrying is a wasted energy.  I know one person that worries over every little thing so misses out on enjoying what is around her NOW.  If you feel totally out of control then take my advice and go clean a closet or drawer.  Why?  Because it is a sense of accomplishment once it is done, you can control how it looks, and most importantly, if you donate some of the stuff you can feel good because you gave to others.
In addition, accept that others may feel differently about your changes.  They may not agree with what you are doing because while you face this change it may also affect their comfort zone and heaven forbid you upset their apple cart as well as your own.  Find out what their thoughts and maybe their fears are if you go through with this change.  Try to be sensitive while setting your boundaries. It is your life and not theirs but if you still want them to be a part of it, you need to make the time to understand what they are feeling.
How else can you deal with the change?  It may require breaking it down into baby steps.  As an example, if you want to get a new job and move to another state, it may be necessary to consult some experts (realtor, financial advisor, mortgage broker) to understand cost of living differential, laws, etc.  It may also require doing other types of research.  As my father always said "talk is cheap" meaning it is best to ask and the worst thing that can happen is that you don't like the answer but at least you know.
Are you facing any changes now?  How are you dealing with them?  Please comment and share your story.