A representative sample of our speaking and training engagements includes:
Coaching for Success
This workshop explains in detail how the power of coaching can help an individual to succeed in achieving his/her objectives.
The ABC's of Leadership
Learn about all of the ways to become a better leader from A to Z!  A must attend workshop for those leading a project, team, department, or organization.
Leadership Development
Focus on how to successfully "energize" your staff to achieve company goals.  This workshop is for strategic leaders who want to create an effective performance management system.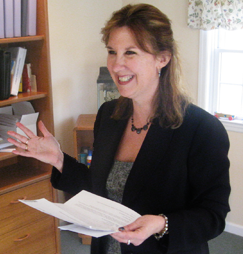 The Science of Being a Super Hero
All of us have various titles, including functional titles (CEO, Director, etc.), but are those the only defining qualities we have?  What super powers do we possess that we need to capitalize on?  This is an interactive presentation where attendees will learn how to define the super powers others see that they don't.
The Good & Bad Four Letter Words in Your Dictionary for Success
In this workshop, participants will work individually and with partners to identify words that have inhibited them in the past from achieving their goals, turn negatives into positives, and create individual missions/goals.  We will identify risks/dares for participants to try after the workshop as well.
Negotiate Like A Pro
In this presentation, we will identify the different negotiating styles people have, learn how to deal with various types of prospective customers, and discuss what to do before a negotiation can even take place.
Crayons to Coaching – The Tools You Need to Succeed
This workshop explores how to go a step deeper in affecting a change that brings fulfillment and happiness in reaching one's goals both personally and professionally.
Team Building & Conflict Resolution
The DISC Assessment can be conducted prior to this workshop to identify key characteristics of the team.  Activities will then incorporate these findings and/or other observations to build better awareness and a more harmonious work environment.
Personal Branding
Just like selling a product or service, your brand is very important, especially when looking at new career opportunities.  It is necessary to clearly define who you really are and know how to communicate that to others.  This workshop will help you to identify your core values, devise a personal mission statement, and learn how to market yourself for a new job, promotion or responsibilities.
How to SCORE Well in Your Interview
This workshop will discuss the five components that an effective interview will cover.