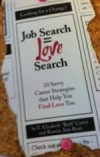 Tune in with Beth Carter on WPRO when she discusses her new book (Job Search = Love Search: 10 Savvy Career Strategies that Help You Find Love Too) with Patricia Raskin!
Listen to Beth Carter on The Patricia Raskin Show on Saturday, May 21, 2016, at 4:30PM ET on 630AM & 99.7 FM WPRO. Listen live on www.630wpro.com.
Please call in during the show to ask Beth questions by calling (401) 438-9776 or (800) 321-9776.
Beth's new book can be purchased on Amazon.com.