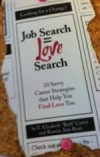 Dating Coach Ronnie Ann Ryan and Beth Carter, Executive Recruiter and Career Coach, join Enterprise Radio to talk about "Savvy Career Strategies" that can help you find love too.
The episode of Enterprise Radio is in association with the Book Author Channel.
Listen to interview with host Eric Dye & guests Ronnie Ann Ryan & Beth Carter discuss the following:
How did you decide to write this unique book?
The digital age has changed job hunting and dating – what do people need to know about that for both types of searches?
Tell me about the similarities for the job interview and first date.—-they are both so similar.
What can you learn from job search rejection that is useful in dating?
What can you say about dating that will help job seekers?
Click here to listen to Podcast
The book is available on Amazon.com