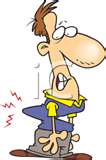 This past weekend I woke up during the night and could not move without experiencing severe pain in my back.  It felt like someone stabbed me in my right shoulder blade which spread to my neck and arms.  I had never felt pain like this ever before.
For this reason, I am keeping this week's blog short but do want to highlight some things I have learned in the last few days while sitting with a neck traction thing on; no photos will be posted on my Facebook page.  J
P – The "people" who have offered to help from friends and family to clients who just call to check in  has been wonderful.  I truly feel that I have a great support system.
A – I always thought that I was in pretty good shape and that my body would never fail me.  I have now learned that one of my most important "assets" is my back because it affects the rest of my body including my brain.  I was in so much pain the other day that I did not want to do anything but now that I am healing, I realize that it was a trigger for my body to say "enough";  I needed to slow down for awhile and regroup.
I – When I sit there with this contraption on my head for 10 minute intervals, it gives me a chance to "investigate" not only what I want to do when I am done for that session but what I want to accomplish during the rest of the summer.  I can really concentrate on "me" with no distractions several times a day.  Normally that would never happen.
N – I also "notice" that I use time more effectively right now.  Considering I can only sit for a certain period of time, I am very focused and more productive. This makes me feel better and gives me a great sense of accomplishment; I may not be able to mow the lawn but I still can edit a friend's sales presentation or call a client. 
I would never wish this predicament on anyone but now that I am starting to feel a bit better, I can reflect that this experience happened for a reason, I will be a better person for it, and I really appreciate getting out of bed and not screaming "ouch"!