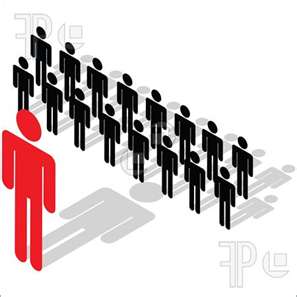 Tomorrow night I will be on a panel for the Hartford, CT alumni group of Bryant University discussing advice for aspiring leaders.  In these tumultuous times, leaders are more under the microscope then ever and outstanding leaders of even a few years ago are finding that they are no longer the best to lead and manage their organizations today.  So what defines a great leader and how do more junior people reach the more senior ranks successfully? 
A great leader is one who motivates, inspires, and empowers their employees to reach their full potential which translates into higher profits and a cohesive and productive working environment. It is important that this person is continually seeking to find ways to improve themselves and to develop continuous improvement strategies for their organization.  Their focus should be on cultivating a workplace based on defined corporate values and devising a vision for the near term and the future. 
In addition, an exceptional leader needs to be able to identify and leverage the talents of their subordinates so that these individuals can also experience success and are willing to go beyond their scope of responsibilities.  In many companies unfortunately though the focus is instead on "fixing" the negatives or shortcomings of these people which can breed resentment and can be time wasters.  It is not possible for everyone to be good at everything so it would be better to focus on what an employee excels at. 
How do you identify potential leaders especially when one is recruiting from outside the organization?  Besides assessment testing and psychological evaluations, it is important to vet candidates that have demonstrated success leading others not just through routine days but also through turbulent times due to the economy or corporate tragedies.  Leaders need to be quick decision makers at times and be able to show confidence and calm others while also carrying a sword into battle.  They must also have a solid team of direct reports that are very capable of mirroring the image of the leader and assisting in implementing strategies efficiently and effectively. 
How does a more junior person become a leader?  They first should identify both a professional coach AND a mentor.  Why both?  A coach is one who motivates and serves as an objective thought partner to assist the person in reaching their goals whether it is leadership and management development, communication ability, and/or strategic and business planning.  A mentor is more of a subject matter expert that can serve as a knowledge transfer adviser who understands not only the foundation of the information but also the nuances that only experts would really know.  Together these two people can help to guide this individual to achieve success. 
Regardless if it is a more senior leader or a high potential junior person, it is important to continually build a network of contacts through business and other types of associations, alma maters, and social clubs.  By doing this, one can learn many things, including how to do something and more importantly how not to do something!  
Being in a leadership capacity is a very challenging role especially during these times.  One has to really have the passion and drive to continually be the cheerleader, motivator, and master of strategy while maintaining their composure and confidence.  Those that are succeeding today are exceptional individuals and will be ones studied by future generations.