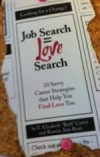 Local Warren author and career coach Beth Carter will present her new book, Job Search = Love Search: 10 Savvy Career Strategies That Help You Find Love Too.  Did you ever think about how looking for a job is like looking for love?  Whether you want a new job or romantic partner, you'll be surprised at how the strategies to accomplish both goals are incredibly similar.  That's why Beth, and Ronnie Ann Ryan, The Dating Coach, put their heads together to create a savvy new guidebook to find work or love.
Date: Tuesday, June 14, 2016
Time: 6:30pm
Click here for event details.