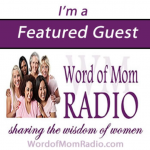 Beth will be a featured guest on the Word of Mom Radio Network on September 26, 2019.
Word of Mom Radio, THE radio show for Mompreneurs and Business Women, has been sharing the wisdom of women on BlogTalkRadio for more than seven years. Mompreneurs, women-owned and home-base businesses are breaking those myths that we are "dabbling" in business. We are empowering each other as we find the balance between building a business, raising a family and creating the life we desire. Our network has now expanded into TV as Word of Mom TV is airing on BLU Success Television on Roku, Amazon Fire and Apple TV – so our media network continues to grow!
Host Dori DeCarlo brings these NEW Business Women to the forefront, giving voice to their amazing stories as we take the world by storm, and pave the way for those who follow our lead.
Click on the link to hear Beth's interview: https://www.blogtalkradio.com/wordofmomradio