Resumes today only get a six second read so does yours stand out from others? Do you know the difference between what you write in your resume and what your Linkedin profile should look like?  Once you have these completed, do you know the most effective way to use them for networking purposes?  This presentation will give you a detailed description of the components of a resume and explain why you don't just cut and paste it into Linkedin.  We will also explore how to get noticed and expand your connections.
Register at rmvets.com/hartford_standbeside .
Also, from 11 – 3, career coaches with Stand Beside Them are meeting with veterans in 1-on-1 coaching sessions to help with interviewing, resume prep, networking and other career topics you may have. If interested in scheduling a 1-on-1 coaching session, register at:
rmvets.com/ hartford_sbtcoachsession .
When:  Thursday, July 9th, 2015
Where:  Hartford Veteran Job Fair – Marquee Events & Catering, 960 Main Street, Hartford, CT, 06103
Time:  10:15am Seminar; 11am – 3pm Job Fair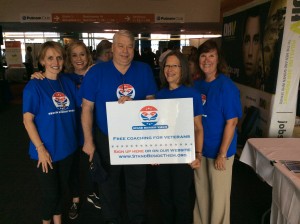 Please click the link below for details:
https://events.recruitmilitary.com/events/hartford-veteran-job-fair-july-9-2015