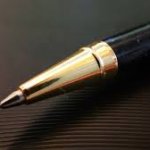 Our new blog series will be monthly and it will be tied into one of the national holidays.  Be aware that these are not your typical holidays but ones, nevertheless, which are celebrated every year.  As an example, today is National Ball Point Pen Day.
The ballpoint pen was invented in 1943 and is considered one of the great inventions of the 20th century.  Without it, we would still be using a fountain pen.  The brothers, Laslo and Georg Biro of Argentina, filed a patent on this day.  Other inventors were also working on making a ballpoint pen but the brothers were the first to succeed.  When it came to market in the United States in 1945, it sold at Gimbel's department store for $12.50 each; it was instant success!  It was originally called a "Birome" and eventually they sold their patent to Bic.
When was the last time you received a handwritten note?  Did you feel special that the sender took the time to write it to you?  Making one feel special and appreciated is one of the most valuable traits a leader can possess.  It is so important to able to connect with not only their employees, but key stakeholders as well like vendors, Board of Directors, etc.  The issue is that many of these people do not take the time to acknowledge a "job well done" and/or thank someone.  If they do, it is usually very brief and probably not as sincere as one would like.
Right now the job market is very tight so employers can't afford to lose staff.  It is also very expensive to provide training and relocation, if necessary.  Morale and productivity usually decrease when an employee leaves especially if he or she is considered a high potential.  That is why it is so important for leaders to take the time to recognize when an employee has performed well.  A simple gesture like a thank you is certainly acceptable, but it is much more meaningful and impactful when the leader goes that extra step.
Not only should the leader do this but it should be encouraged throughout the organization.  Having a respectful and thoughtful company is not only necessary, but it also can help its brand in the marketplace.  No one wants to work for a company that has a bad reputation.  The hard part of all of this is that it takes time and also sincerity.  Everyone in the company should not only receive ethics training, but kindness training would be very valuable as well.  So leaders get out your ball point pen and start showing your appreciation for your hardworking and dedicated employees.