Job Search = 

Love

Search: 10 Savvy Career Strategies that Help You
Find Love

Too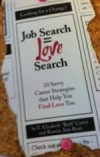 Did you ever think about how looking for a job is like looking for love? Whether you want a new job or romantic partner, you'll be surprised at how the strategies to accomplish both goals are incredibly similar. That's why E. Elizabeth "Beth" Carter, Executive Recruiter and Career Coach, and Ronnie Ann Ryan, The Dating Coach, put their heads together to create a savvy new guidebook to find work or love.
To win over a hiring manager, you need to do the research and hone your interview skills. To connect with the right man you need the confidence of knowing you're a great catch. Clients have had great success with these proven methods and they will surely work for you as well.
To find a job, discover how to shine as the ideal candidate, establish personal branding to stand out and handle rejection. Plus, learn how to use negotiating tactics that work. Beth reveals her top tips she normally reserves for her high-end clients which have produced excellent results for so many.
To find love, find out how to ensure a great first date, have fun conversation and handle rejection with grace. You'll also learn how to navigate dating with greater ease and stay positive. Ronnie reveals the eye-opening secrets about dating that will turn your love life around and help you enjoy dating until you find "The One."
With this unconventional book as your guide, you'll find out how to avoid common and painful mistakes for your job search or dating and recognize when the position or man is right for you. Quick to read and packed with empowering and proven tips, you'll want to keep this book on hand while your search is on. The authors provide valuable insights to make your journey productive, positive and fun, while increasing the odds of landing the job or man of your dreams.
 Click here to listen to Beth discuss her book on the Patricia Raskin Show! ~ 5/15/2017 Podcast